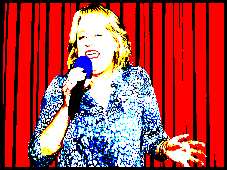 90th Birthday Party Alabama Express
A big thank you to Pauline, Geoff and the rest of Alabama Express for putting on such a lovely show for my Dad's 90th birthday at the Pizza Express Music Rooms Maidstone. We go to see live bands there quite regularly but had never seen a country and western band there which is my Dad's favourite. The band played just the right selection of music and the humour and good banter with our family made it a very special day.
Barry Ledgett, Maidstone


Press Button B
Hi Pauline

Just a quick note to thank you and your partner for the great entertainment provided by "Press Button B" at the Gale Court - I hear it was again enjoyed by all!!
Best wishes
Sue Foulkes
Clerk to Barton-le-Clay Parish Council
Press Button B
Dear Pauline
Many thanks for your and John's excellent performance on Friday, perfect mix of music, we all enjoyed it so much. No one bothered with the disco, as expected.
With very best wishes for Christmas.
Jenny and Al.
"One World Club" "The Andersons"
Hello Pauline and John
I'm just writing to say thanks for such a great performance last night. Your act was as polished as any I've seen. The guitar playing was perfect and the singing was well rehearsed, slick and even in tune (said he with envy).
I'd played country and pop with you over the years, Pauline, but never appreciated that you were such a great show-person. Your 30s and 40s act has, for me, brought out a strength that makes you shine much more than I'd previously witnessed. The two of you obviously inspire an energy in each other that makes you both sparkle.
John (our film maker) has just called to say he's made the master disc and you were both terrific. He said you 'put a fresh interpretation on old songs which really brought them to life!'
Andy Gilbert
The Taymer Retirement Home "Press Button B"
Pauline
We all loved you both. You made our day, everyone says how well you both perform together, and that you have a beautiful voice. What I love too, is that you are both happy and have fun.
Many thanks.
Heather
One World Club, Miton Keynes 3rd March 2014
….. The Andersons, who stepped in at the eleventh hour and gave a great performance of songs and music from a forgotten era, which left the crowd asking for more.
"Press Button B" Crowley Care Homes
Happy Christmas & thanks for helping us out at such short notice.
Con Crowley
Dear Pauline and John, "Press Button B"
Thank-you once again for the splendid entertainment following the Gala Dinner, which rounded off our wonderful evening and Marquee week to perfection!
As of last year, many of us sprung up to dance to the music chosen so cleverly. That had never happened at any other Gala events before you came! You could see the pleasure on everyone's faces, whether actually dancing, or just revelling in the songs and your performance.
We are all recovering now from a rather hectic week, but looking back with pleasure at the fun we have had.
Thank-you again, and very best wishes to you both.
Hilary McNair
Castle Village, Berkhamsted gig 30.07.18
W.I. Social Evening Milton Keynes "Press Button B"
Dear Pauline
A Big Thank You to you and John for an enjoyable evening of music and fun. Everyone enjoyed the evening and said how different it was to have some music.
Thank you so much.
Regards,
Janet Morly
"The Andersons"
I like your "Blue Moon" from the 1930s, brings back memories - when I was a small boy!
Delightful group - congratulations on a wonderful performance